(double clic
on this button to go to the Home page of our gite en alsace)
Welcome to our Gite en Alsace for your next holidays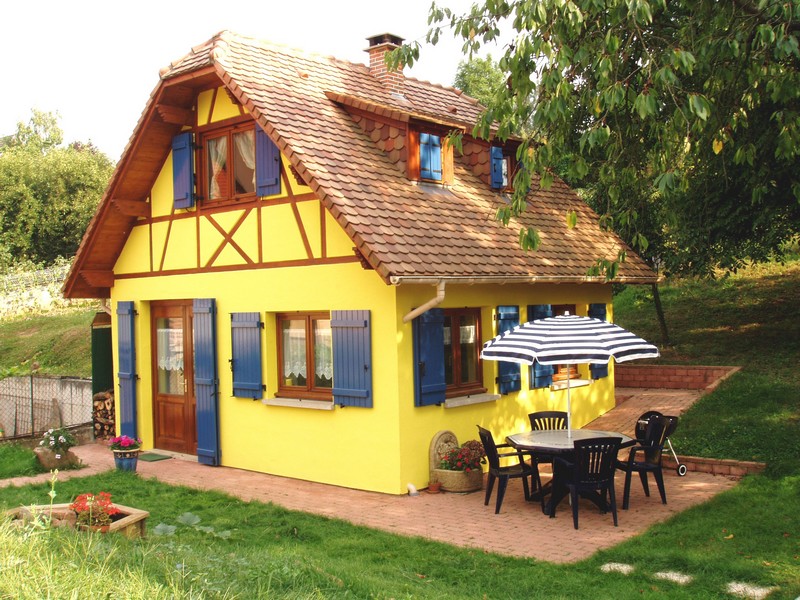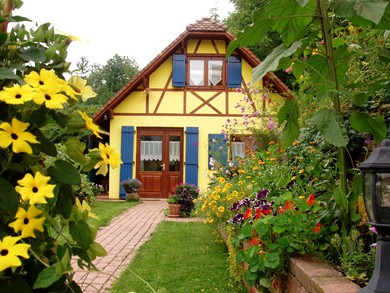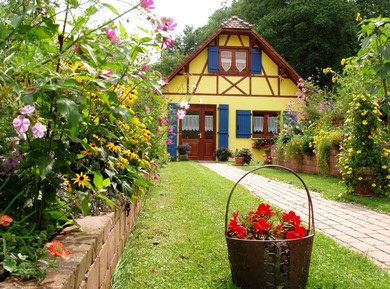 "GÎTE EN ALSACE" DESCRIPTION
This gite is a small detached house located in the grounds of the owners property on the edge of the village of MUTZIG in the foothills of ancient orchards. The house is ideal for a couple, with 1 or 2 children or for 3 adults, an ideal starting point to discover Alsace and visiting Strasbourg and Colmar or just enjoying beautiful walks in the Vosges mountains.
Ground floor:

(3 rooms)

Fitted, white oak kitchen with oven, cooker hood, hob with 4 ceramic plates, fridge/freezer, microwave, blue resin sink, dining area with table and 4 chairs, TV and built in wood burning stove

;

Entrance hall with cupboard and the staircase leading to the first floor

;

Bathroom with shower, wash basin, WC and washing machine

.
First floor:

(1 room)

Bedroom with double bed (140x190), single bed (90x190) and a sofa bed which can be used as a small single, study corner with desk, TV and DVD player

.

Outside:
The gite is located in a calm residential area at the foot of the Vosges mountains, 4kms from wine region and 25 minutes by road or train from Strasbourg
In the surrounding area are 2 shopping centres: 1km and 4kms from the gite, doctor, dentist, chemist, all only 1km away in Mutzig. There is a swimming pool 2.5 kms distant.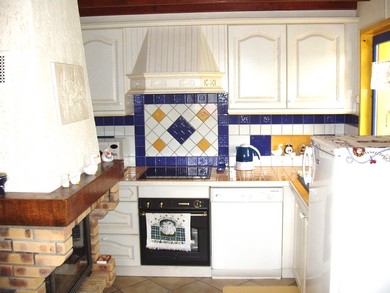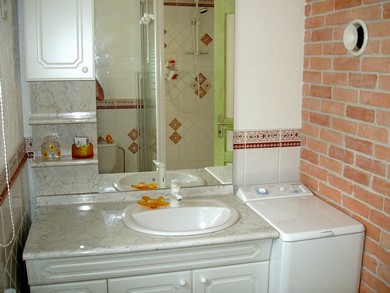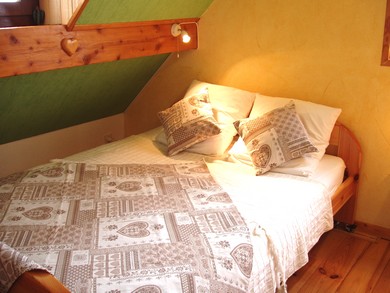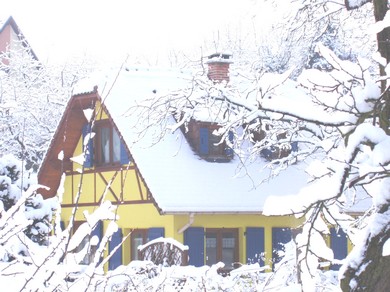 ACCESS TO "GÎTE EN ALSACE"
Access by train:
Coming from Strasbourg, go down to the Mutzig station on the T.E.R. line (Strasbourg<=> St Die) which is 7 minutes from the gite

pass the level crossing DORLISHEIM (towards the barracks)

then 1st left towards *3 Pics* street

then 2nd right at *des Roses* street
Access by car:
At the MOLSHEIM exit leave the A352 motorway from STRASBOURG

turn left at the 1st roundabout DORLISHHEIM TOWARDS Mutzig

at the entrance to MUTZIG and at the end of the straight lane which passes in front of the barracks,

take a left on *3 Pics* street then 2nd right *des Roses* street.

RECEPTION
The owners will personally greet you on your arrival
Contact them at your arrival.
The lodging address:

30, rue des roses

F-67190 MUTZIG

The owners:

Gilbert et Dominique GUYOT

': +33 3 88 38 09 11 ou +33 6 73 09 24 93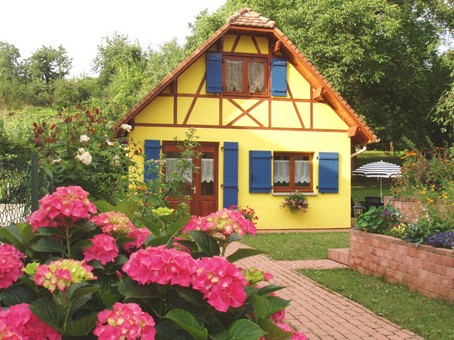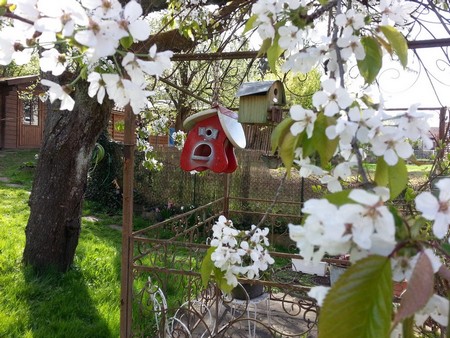 G
ITE EN
ALSACE
TARIFF
Price per week Saturday 16h to Saturday 10h
Sorry no pets ( but some exception possible for little pets - contact us for more information)
the price depends on the time of year and varies between 300€ low season and 440€ high season as explained in the "Availabilities-Tariff web page of this site.

this table shows the price of the weeks still available. To display, click

"here"
Conditions
The tariff shown corresponds to the weekly rental, it includes the consumption of water, electricity and if necessary, firewood for the wood burner in times of need

The cost of heating,using the electric radiant radiators or the firewood is included in this tariff.

This tariff also includes a supply of cleaning products, also an initial supply of dishwasher tablets (2) detergent for the washing machine,(1 cycle), toilet paper, (2 rolls) kitchen paper, (1 roll) bin liner, (1)

Household linen (bed linen, towels and face cloths) are NOT included in the price

*Taxe de sejour* (a visitors tax, required by the commune, remains moderate (0,50€ per person, per night) and is in addition.

For Mid-week or week end rentals or other particular request, please consult us.
PRACTICAL details
An inventory of fixtures and fittings will be carried out on arrival and at the end of your stay. A security deposit of 150€ will be requested on arrival and will be restituted on departure, any loss or damages will be deducted from this deposit commensurate to the cost of the loss/damage

Except by prior agreement, the number of people must not exceed the stated capacity

For safety reasons and for the comfort of future tenants, smoking is not allowed in the gite

Sorry no pets, please consult us for necessary cases, i.e. guide dogs or particularly small animals.

Our prices include the normal consumption of water, electricity and firewood used by the gite occupants in any season, individual meters of water and electricity in the gite make it possible to follow the consumption.

*Taxe de sejour* (visitors tax) is payable on departure, the owner pays in this tax to the commune of Mutzig annually

Two blankets per bed are at your disposal in the gite.

WEEKS - RESERVATION
For Reservation and Available Weeks, click on the Home Page on "Reservation" button and then on "Disponibilité" button or.....

For direct access to "Available Weeks" page:

click here: to see the availables weeks


To send us an email for reservation request click here and give us inside the email:

yours name,

your adress,

your phone number,

your arrival and departure dates,

the number of adults and childrens

if you prefer to receive the contrat by email or postmail

We will send you soon a proposal and then, if it will be OK for you, a reservation contract.

You can also call us to verify the lodging availability , give us your reservation request or for any questions :

Gilbert & Dominique GUYOT

Fix Phone : +(33)(0)3 88 38 09 11

Cellular phone : +(33)(0)6 73 09 24 93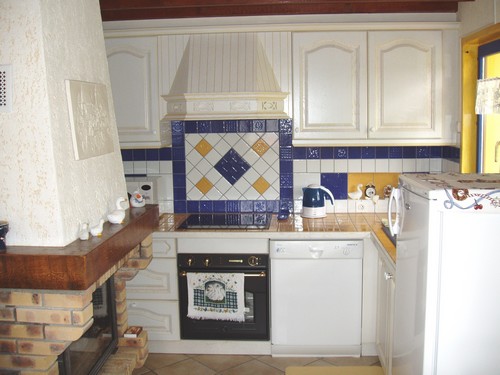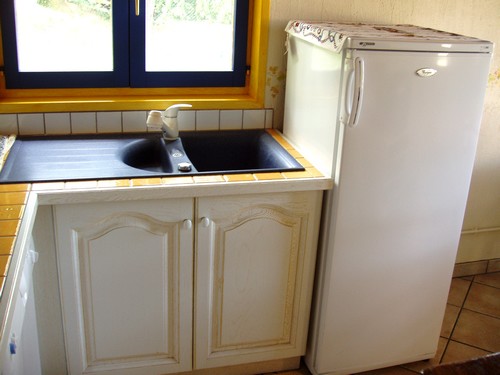 "GÎTE EN ALSACE" EQUIPEMENT
HOUSEHOLD EQUIPMENT - Large electrical

KITCHEN

12 place Vedette dishwasher

Rosiere oven with fan, spit, self cleaning,

Sauter induction hob with 4 plates, 2 of which have timers.

20L, 800W Microwave oven with 7 power levels

Whirlpool refrigerator with 4* 22L freezer compartment

Cooker hood with washable filters

TV

BATHROOM
ENTRANCE HALL
BEDROOM/STUDY

TV

DVD player

Weather station (date, hour, sun rise and sunset hours, temperature, interior and exterior humidity, barometric pressure and weather forecast)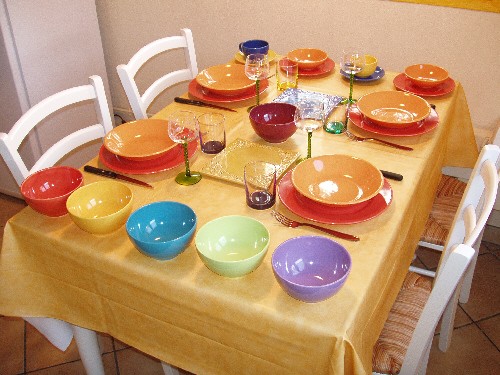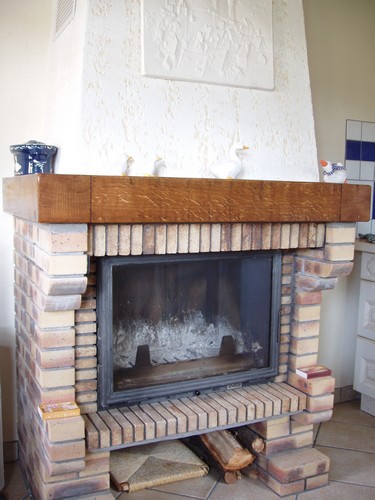 HOUSEHOLD EQUIPMENT - Small electrical
1000W toaster

600W toasted sandwich maker

2000 W kettle

150W whisk

640W coffee maker

600W food processor

1200W hairdryer

1000W iron

1200W grill

Internet Wifi free access (*)

(*) The free Internet access offered is limited to providing access codes to the private wireless network of the owner to the tenant to access the internet during his stay with his own computer equipment. This offer is subject:

- a request for this service when booking the stay;

- the tenant's computer equipment is compatible with the WiFi network proposed by the owner;

- internet access and wireless transmission system proposed by the owner will run during the stay of the tenant;

- the signing, at the availability of WiFi access codes, a "code of good practice" in using this Internet access.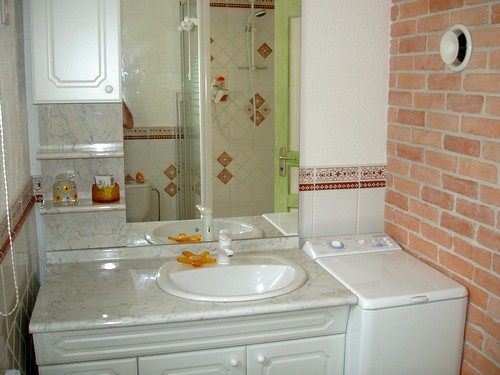 KITCHEN

1 white table with turned feet, 120x80

4 white, cane seated chairs

TV table with racks for tourist information

ENTRANCE HALL

BATHROOM

toilet roll holder

1 towel rail

BEDROOM/ STUDY

1 double bed 140x190 in varnished pine

1 single bed 90x190 in varnished pine

1 sofa bed transforming into spare bed of 80x190

1 pine chest with 4 drawers and 2 racks

1 desk with chair both in varnished pine

2 bedside table with lamps

1 reading lamp

1 coffee table 40x60

TV table in varnished pine

1 stool in varnished pine

1 lamp behind sofa

1 bed for 2 people in 140 X 190 cm in varnished pine;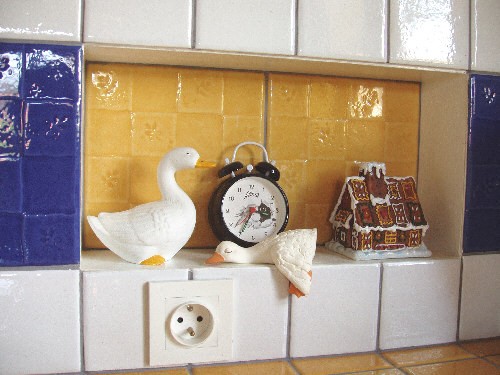 TERRACE

paths and terraces of aged paving stones

1, for 4 person, octagonal blue table

4 blue garden chairs

2 exotic wood chairs

1 parasol

1 WEBER barbecue with lid

1 wall fountain

1 wood store

ORCHARD

AT THE EDGE OF THE "DES ROSES" STREET

2 private, paved parking areas

1 paved pathway connecting carpark to gite with movement sensor lighting.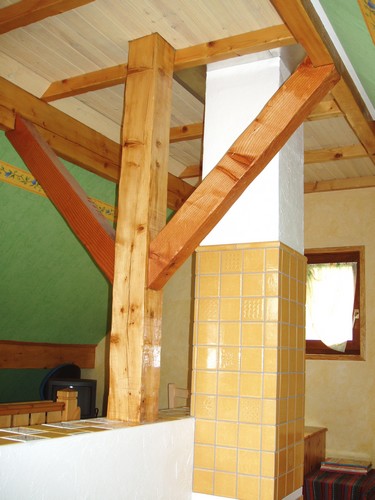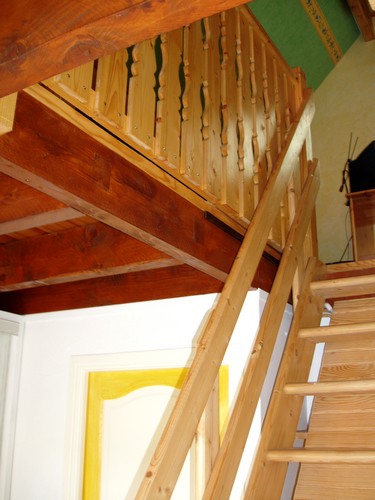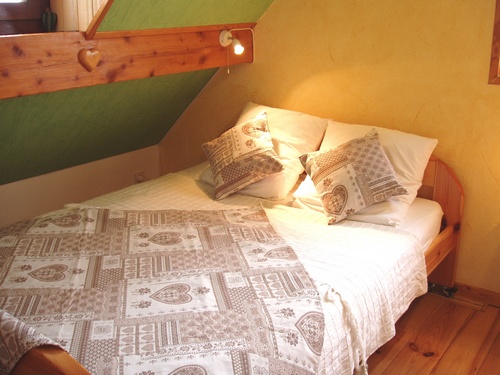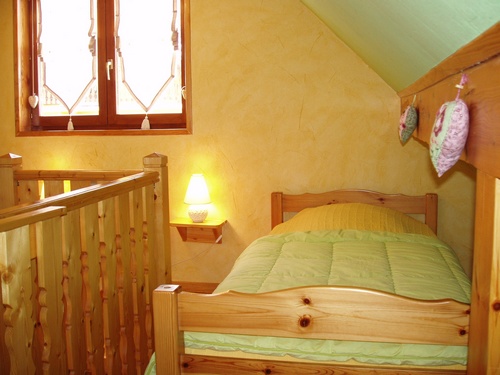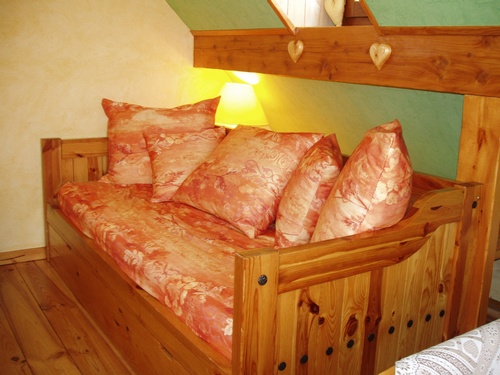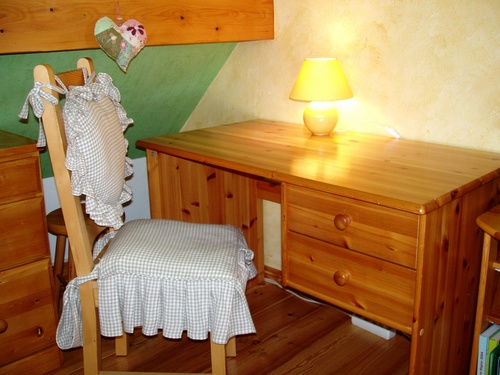 Some partners links:
---
Copyright (c) 2004 - Gilbert Guyot - Création "Gite en Alsace" All rights reserved.